Feeling squeezed in "The Sandwich Generation"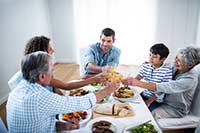 Do you feel pulled in every direction? Do you look in the backseat of your car and spot a car seat, book bag, and a walker? Those might be telltale signs that you are in the "sandwich generation." The sandwich generation is made up of people who are taking care of both their children and helping their aging parents. In some cases, it might also involve helping your adult children and grandchildren. This is not a new phenomenon, but with an aging population and a generation of young adults struggling to pay off school loans and achieve financial independence, the burdens and responsibilities of middle-aged Americans are increasing. Nearly half of adults in their 40s and 50s have a parent age 65 or older and are either raising a supporting a grown child (age 18 or older). And about one in seven middle-aged adults is providing financial support to both an aging parent and a child.
What kind of sandwich are you?
Carol Abaya, M.A., a national expert on elder care, says people fall into one of three categories. Traditional sandwiches describe those who raise their own families and also care for their parents. Club sandwiches are people in their 50s and 60s with aging parents, adult children and grandchildren or folks in their 30s and 40s with kids, aging parents and grandparents. Abaya refers to "anyone else involved in elder care" as Open-Faced sandwiches. In recognition of National Sandwich Generation Month - try this "Open-Faced" Sandwich that features the bounty of the summer garden.